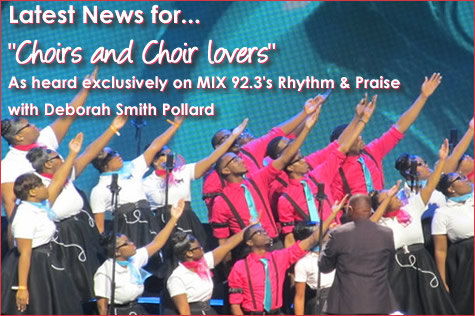 Read on to find out where to hear some
phenomenal choir music, how your choir can grow, how to
become part of a brand new community choir, and more. As heard
exclusively on MIX 92.3's Rhythm & Praise with Deborah Smith
Pollard.
---
City Talk Magazine presents Detroit Gospel Explosion "Blessed in The D" Benefit Concert, Mar 30 @ 7:30PM (Doors open @ 6:30PM) @ Fellowship Chapel, 7707 W. Outer Drive, Detroit, MI 48235.

---
Historic Second Baptist Church
of Detroit Board of Christian Social Concerns presents the Morgan State
University Choir in concert, Dr. Eric Conway, Director, Sunday, March
30, 2014 @ 4:00 PM.

---
Coming up in April, there are two opportunities for any choir lovers out there looking to be part of a live concert recording experience.
On Friday, April 4th, Oscar Hayes and TriChurch Fellowship Mass Choir present a live recording worship service at Mayflower Church in Detroit.
---
And on Sunday, April 13th, The Straight Gate Mass Choir invites all to a special worship experience as they record a live praise & worship album at Straight Gate Church.
---
Deitrick Haddon's 100-member strong choir LXW (which stands for "League of Xtraordinary Worshippers") releases their debut project April 22nd. The release features gospel heavy hitters Hezekiah Walker, Donald Lawrence, Ricky Dillard and Jessica Reedy. Pre-orders come with an immediate download of the single "Great God."

---
Looking ahead, Chicago's Bishop Larry Trotter and Sweet Holy Spirit Mass Choir will be in the Detroit area May 4th for "Word Explosion" at Rhema International Church.

---
In keeping with the reality show trend, a group called "The Casting Firm" and a major cable network are searching nationwide for choirs to transform on the new reality series "FIX MY CHOIR." If your choir is facing some challenges and doesn't mind airing their dirty laundry, you may want to check this out.

---
Closer to home, a brand new choir called "Chosen Generation" is looking for new members ages 16 to 25. Choir conductors Damon Gough & Lakisha Young will be holding a Round Up on this Thursday, March 27th @ New St. Mark Church, but you'll need to confirm your attendance by this Monday.

---
For those really serious about taking their music ministry to the next level, Grammy Award winner Tye Tribbett has created a Music Mentorship Program called "The CHOSEN," which is designed to provide singers, worship leaders, new artists and musicians with wisdom, insight, instruction and practical information. If you're interested, you'll have to hit the road and head down to South Carolina May 15th-17th.

---
Finally, while we love sharing big gospel events like"The Cross and The
Light" at the Music Hall April 10th-13th, and Yolanda Adams @ Triumph Church on Resurrection Sunday, we also love sharing not-so-big gospel events.
With that in mind, please be sure to get the word out about your church or ministry events by adding them to the DetroitGospel.com calendar page for free!