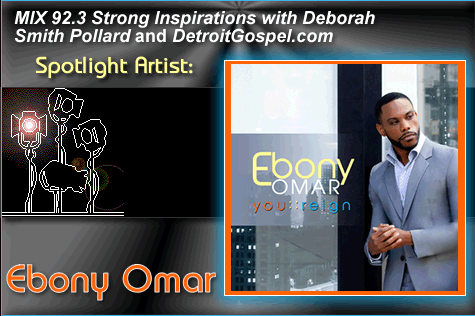 In an effort to promote and support homegrown gospel talent, Ebony Omar has been
selected as a "MIX 92.3 Strong
Inspirations with Deborah Smith Pollard" and DetroitGospel.com Spotlight
Artist.
Album Title: All That I Ever Need
MIX 92.3 Strong Inspirations with Dr. Deborah Smith Pollard Spotlight Single: He
Reigns
Single Release Date: March 2013
Listen to a Snippets from "He Reigns" by Ebony Omar
PRESS RELEASE

Gospel Standout, Ebony Omar Releases, "You Reign"
Meet Ebony Omar
Years of preparation, hard work and sacrifice undergird every note of the new release, "You Reign" from
Detroit's latest Gospel standout, Ebony Omar. When "You Reign" debuts on March 19, 2013, it will be the
latest step of consistency and marked progression in the ministry of this budding new artist who made
the final 10 for the "Sunday's Best" auditions for the Detroit region.
Ebony Omar studied science to become a teacher and work in education. He continued his post secondary
education and obtained a Masters in Principalship from Central Michigan University.
He founded a choir, "The Levitical Voices," who traveled the state of Michigan performing in front of
thousands and became known for their distinct sound. Ebony Omar went on to join Perfecting Church where
he was placed in the Detroit Recording Choir: Perfected Praise and the Praise and Worship team.
He has been compared to the likes of Isaac Carree, Brandy Norwood, Kenny Lattimore, Tonex, and Joe.
Ebony Omar is easily recognized by his distinguished tenor voice. While working as a teacher for the
Detroit Public Schools, Ebony Omar kept music alive within the schools of Detroit, forming and directing
choirs at Rosa Parks Middle School and Durfee Middle School. During this time, Ebony Omar shared the
stage with musical greats such as Donald Lawrence, Oscar Hayes, Martha Munizzi, Kurt Carr, Triumph
Church Choirs and Pastor Marvin Winans. He received words of encouragement from musical "Big Brother"
Richard Smallwood, and guidance from the Holy Spirit.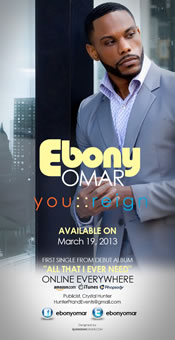 His new release, "You Reign" will delight Gospel listeners and will be available via iTunes and
Amazon on 3/19/13.
Connect with Ebony Omar
To book or interview Ebony Omar, contact Crystal Hunter at hunterprandevents@gmail.com
To "Follow" Ebony Omar on Twitter, Click Here.
To "Like" Ebony Omar on Facebook, Click Here
Support Ebony Omar
Purchase the new single "You Reign" from iTunes or Amazon
————————————————
MIX 92.3's "Strong Inspirations with Deborah Smith
Pollard" can be heard each and every Sunday morning from 10AM – Noon.
To contact Dr. Deb…
Email:
dpollard@clearchannel.com,
Become a
fan on FACEBOOK